Keep Your Tree Healthy and Yard Safe with Tree Trimming in Bloomington IL
TJ Blakeney Tree Service is the premier tree trimming service in Bloomington IL. We specialize in tree trimming and pruning to keep trees healthy, safe, and looking their best. With years of experience in the tree care industry, our team has the knowledge and expertise to provide you with quality tree services tailored to your needs. Whether you need a few branches trimmed or an entire tree removed from your yard, we guarantee satisfaction with every job we complete. Contact us today for all of your tree-trimming needs!
When Do Your Trees Need Trimming?
Curb appeal isn't the only reason why your tree might need trimming. Ultimately, tree trimming directly impacts the health and appearance of your tree and can sometimes be a hazard if dead limbs and branches are left unchecked. If wondering if you need tree trimming yourself, here are some signs it's time to call TJ Blakeney:
Presence of dead tree branches
Uneven tree shape
Overgrowth of foliage
Branches are too close to power lines
Unsightly or deteriorating tree bark
Trees that have grown into and around other structures
Excessive leaf-drop or seed pods on the ground
Poor tree health, such as discolored leaves or wilting stems
Exposure to storms with winds above 25 mph resulting in broken branches and limbs
Evidence of insect infestation
Our Tree Trimming Process
In truth, tree trimming can be a dangerous task to complete on your own. Without the right tools and equipment, you risk harming yourself, your property, and your tree! Thankfully, TJ Blakeney's team has the tools and experience to trim and prune your property's trees quickly and safely. When performing our tree trimming services, our process entails:
Assessing tree health and setting goals: We will first inspect your tree and determine what needs to be done to keep it healthy, safe, and looking its best.
Removing dead or decaying branches: Dead or decaying tree branches can pose a risk to property and people if left unchecked. We remove these hazards before they can cause any damage.
Trimming away overgrowth of foliage: If your tree has become too overgrown, our team can help restore it by removing excess growth while preserving the natural aesthetic of your tree's shapely form.
Eliminating dangerous branches near power lines: Branches that come into contact with power lines can sometimes create hazardous situations for you and utility workers alike! We safely eliminate such risks by carefully cutting away those entangling limbs without compromising the tree's integrity.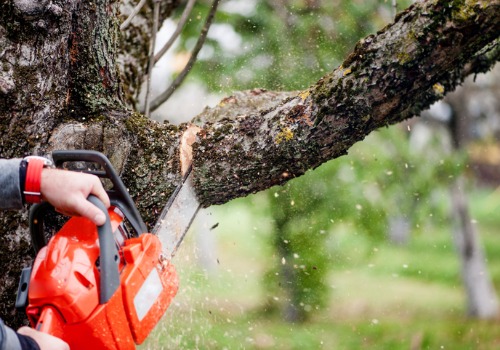 Give Us a Call!
Whether protecting your property or keeping your tree healthy, tree trimming in Bloomington IL is an essential service for property owners. To ensure your tree trimming is done safely and accurately, count on the tree experts at TJ Blakeney Tree Service! You can contact us today at 309-319-0630 to request a quote or schedule service.