Top Contractors Near Me for Stump Grinding in Bloomington IL
TJ Blakeney Tree Service contractors offer top-rated services such as tree removal, land clearing, and stump grinding in Bloomington IL. Tree stumps can expose your property to several kinds of problems. Plus, they negatively impact your curb appeal with their unsightly appearance. Whether you need to remove one stump or several, we can grind them away and backfill the area to allow for new growth or a fresh landscaping project. Do you have a stump that you want removed? Then, give us a call at 309-319-0630 or fill out our online contact form to request service or a free quote.
Top Reasons to Hire Pros for Stump Grinding
There are many reasons why it is a good idea to hire professionals for stump grinding in Bloomington IL. Here are some of the biggest reasons why it makes sense to get rid of that unsightly tree stump:
Eliminate Sprouting – The last thing you want when you have a problem tree removed is to have another one grow back in its place. However, you may find yourself in that situation if you do not remove the tree stump left behind. That stump can lead to sprouts that eventually lead to regrowth of a tree.
Avoid Damage from Tree Root Growth – Tree roots continue to grow from stumps. Unfortunately, this can lead to damage to your underground utility lines and clogged or broken sewer lines.
Get Rid of the Safety Hazard – Tree stumps also pose quite a risk for trip-and-fall injuries. If you host a family event, an elderly loved one or child could easily have a bad fall and require a hospital trip.
Remove the Inconvenience – It can become frustrating to avoid the stump when you do weekly lawn maintenance and mowing. Plus, you can damage your lawn mower significantly if you mistakenly run over part of the stump.
Avoid Pest Infestations – Termites, ants, and other problem insects can make themselves at home in tree stumps. Once they build a colony, they will spread to other parts of your property, potentially damaging, or infesting your home.
Protect the Rest of Your Lawn – Tree stumps can spread diseases or fungal growths that can kill off parts of your lawn, flowers, bushes, and other plants on your property.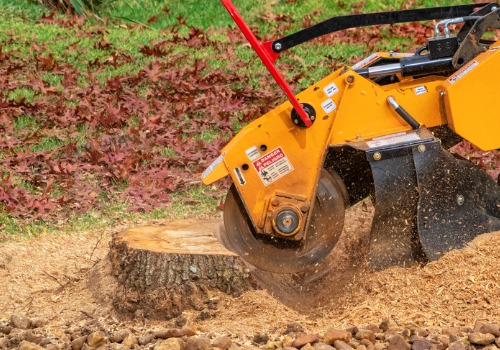 Improve Curb Appeal with Stump Grinding
You spend a lot of time making your house look its best. Do you really want a tree stump to take away from those efforts? Tree stumps are unsightly and negatively affect the aesthetics of your property. So, get rid of that eyesore with the help of service for stump grinding in Bloomington IL. After all, tree stumps take up space. Once they are gone, you can use that part of your yard to plant something beautiful in their place.
Contact Us for Stump Grinding in Bloomington IL
TJ Blakeney Tree Service does it all when it comes to tree services, including stump grinding in Bloomington IL. Do you own problem trees or unsightly stumps in your yard? Then, let us take care of the problem for you. Send us an email today or call now at 309-319-0630 to request a free estimate or schedule service.