Let TJ Blakeney Tree Service Do the Work When You Need Tree Cutting in Peoria IL
Having trees means you'll have a need for periodic trimming, or sometimes even removal of those trees. TJ Blakeney Tree Service can help with all of your tree cutting in Peoria IL.  Even the simplest trimming out of dead or broken limbs can be a big task. Bigger jobs, such as downed trees from storm damage, or the need for complete removal of a tree, are even more intimidating. Fortunately, we have the skill and experience to take care of all your tree service needs.
Services We Offer
We have you covered on everything from the simplest trimming to full removal of trees. If storm damage has downed trees on your property, we will arrive quickly to remove downed limbs and trees, working with your insurance company along the way. We offer full-service tree removal if needed, which includes removal, stump grinding, and backfilling the area. If you need, we can also remove large quantities of trees at one time for land clearing. Our expert professionals and high-quality equipment allow us to safely and effectively cut or remove trees while protecting your property and our personnel. We strive to leave happy customers.
Since we first began, we've compiled the right tools to get the job done right. From our spider lift that fits through 3-foot gates and has an 83-foot reach to our grapple saw crane and it's 90-foot reach for access to larger trees, we have the equipment for ease and safety. We also have a truck crane with a 100-foot reach to provide accessibility to trees you'd never be able to touch. Let us help you trim your trees while you're in the comfort of your home.
Proudly Serving Illinois
We have proudly offer tree cutting in Peoria, IL, and surrounding areas since 2014. We serve the communities of Carlock, Congerville, Danvers, Downs, Eureka, Goodfield, Gridley, Heyworth, Hudson, Leroy, Lexington, Mackinaw, Minier, Morton, Peoria, Stanford, Towanda, and Washington. Our five-star reviews and photo gallery on our website illustrate the quality work we do. We have also received several Readers' Choice Awards in the area since 2018. Our established, experienced professionals guarantee the high quality of work all customers deserve.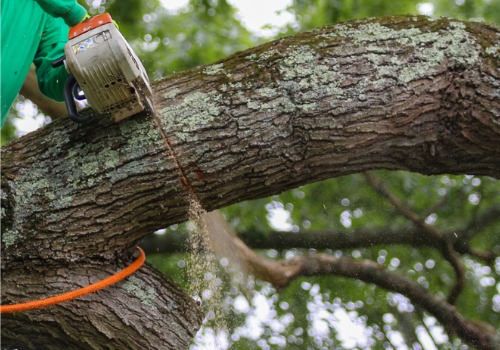 Contact Us Today
Let us know how we can help with your tree cutting in Peoria, IL. For a free quote, you can fill out our online form. You can also give us a call at 309-319-0630. Thank you for trusting us to help with all of your tree service needs.