Trust TJ for Efficient Stump Grinding for Bloomington IL
TJ Blakeney Tree Service provides efficient stump grinding services to properties throughout the Bloomington-Normal area. Stump grinding is important to maintaining a healthy, attractive landscape, and TJ Blakeney Tree Service can help you easily eliminate unwanted stumps. Whether you need to remove a single stump or several, our experienced team will safely and efficiently grind away the stumps and backfill the area to allow for new growth or landscaping projects. Our professional staff will work closely with you to ensure that your property looks its best when we are done. So if you're looking for quality stump grinding in Bloomington IL, trust TJ Blakeney Tree Service!
Why Do You Need Stump Grinding Services?
As mentioned, stump grinding is essential to keeping your landscaping looking its best. Stumps can detract from a yard's aesthetic appeal and can be potential hazards or breeding grounds for unwanted insects. In addition, stumps may harbor disease or fungus that could spread to other parts of the landscape. Thankfully, work from TJ Blakeney Tree Service is the solution!
Enhance Curb Appeal: Grinding helps improve your property's overall look by removing unsightly stumps.
Deter Unwanted Insects: Stump grinding eliminates potential breeding grounds for unwanted insects and pests, helping to keep your yard safe from infestations.
Prevent Unsightly Growth: Grinding away stumps will prevent new growth, like weeds or saplings, from taking over the area where a stump used to be, giving you a neat, clean landscape appearance.
Avoid Yard Hazards: Stumps can become tripping hazards when left in place and can cause damage if not appropriately removed; stump grinding effectively eliminates any safety concerns arising from having an old stump on your property.
Remove Disease-Causing Fungus & Bacteria: Stumps can harbor disease and fungus, which could spread to other parts of the landscape if not addressed promptly; stump grinding is a great way to help protect against potentially damaging bacteria or fungal spores being transferred through contact with other plants on your property.
Complete Tree Removal Services: TJ Blakeney's tree removal services aren't complete without stump grinding and backfilling! For the complete removal of hazardous trees in your yard, grinding helps finish the job.
Our Stump Grinding Process
Stump grinding can be a timely and dangerous process if not left up to the professionals. To ensure complete and safe grinding and removal of your stump, trust the tree experts at TJ Blakeney. Our process involves:
Assessment: Our technicians will assess the property to identify any potential safety concerns or other issues that must be addressed before grinding.
Removal of Rocks, Lawn Ornaments & Debris: Before we begin the grinding process, our team will carefully remove any rocks, lawn ornaments and other debris around the area, so they don't get caught up in the grinder during removal. This helps minimize accidental damage and ensures a quick, smooth job!
Grinding: Once all necessary preparations are made, we can start grinding down the stump using special tools and equipment designed specifically for this task. To eliminate stumps completely, we grind them down to a point below the ground's surface, making sure to reach all roots and the entirety of the stump.
Backfilling & Clean-Up: Finally, after completing all necessary steps in the stump removal process, our team will clean up debris and fill soil where needed before leaving your property looking like new again! During backfilling, we ensure your yard is level, with no dips or holes to trip over, and the area of backfill is made firm, compact, and ready for landscaping.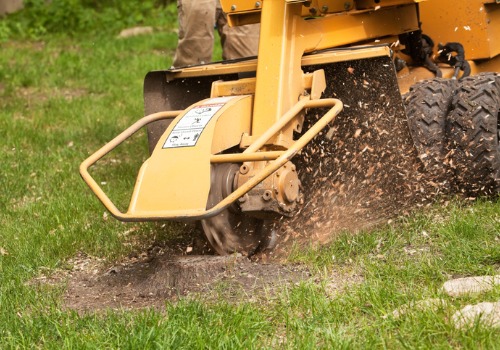 Give Us a Call
Tired of that unsightly, hazardous stump sitting in your yard? It's time to invest in stump grinding services from TJ Blakeney Tree Service! Contact us today at 309-319-0630 to request a quote or schedule an assessment. We serve businesses and residents throughout Bloomington-Normal and the surrounding communities with expert tree services.