When You Need Tree Removal Near You, Bloomington IL, Call TJ Blakeney Tree Service
The canopy and shade provided by trees can be one of the most pleasing features of a home's outdoor space. Yet all that beauty and function does come with the downside that all living things have. They can become too big for their space, become incapable of supporting themselves, or breakdown entirely. When trees fall into that pattern, you want to search for tree removal near you because of the danger that fallen trees can create for the people and structures around. Since 2014, TJ Blakeney Tree Service has been serving the Bloomington-Normal IL area, helping our neighbors and community members ensure safe and effective removal of tree matter on their property.
When to Call TJ Blakeney Tree Service
Maybe your trees are a little overgrown. Perhaps they are starting to overhang structures and become a danger. Or maybe they have already come down and need the stump ground down. In any of these situations, TJ Blakeney Tree Service is the only call you need to make. Our experienced team will arrive ready with the equipment to remove any trees or limbs. And at TJ Blakeney Tree Service, we are committed to leaving your land in as pristine a condition as possible, so when we grind stumps and backfill the area, you barely know we were there.
In addition to serving the Bloomington IL area, we serve communities within a 50-mile radius, including Congerville, Eureka, Heyworth, Leroy, Peoria, Towanda, and more. We also offer free quotes for our services. We'll even work with you to find a time that's convenient for schedule.
Our Equipment
The scale of many trees makes them impossible to navigate without some specific equipment. While our crew can climb to trim trees, many require cranes to remove them. At TJ Blakeney Tree Service, we have multiple options so we can ensure safe and effective tree removal for you. Our spider lift can fit through 3-foot gates and can extend to an 83-foot reach, allowing access to hard-to-reach places. We also have a grapple saw crane with a 90-foot reach that can efficiently and safely remove large trees without anyone in the air. The grapple saw crane is also able to safely place cut parts on the ground, so you never have to worry about where they'll fall. And if you have a very large tree, we own a truck crane with 100-foot reach, which allows us to access trees that otherwise wouldn't be accessible.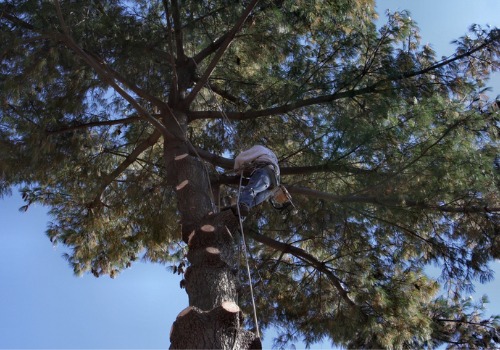 `
Contact Us Today
We're sure our team can take care of all your tree needs. When you find yourself looking for tree removal near you, give us a call in our Bloomington office at 309-319-0630. We look forward to helping you turn your outside space back into the oasis you want.