TJ Blakeney Tree Service Can Handle Tree Trimming Near You
Since 2014, the Bloomington-Normal area has been able to count on TJ Blakeney Tree Service for tree trimming near you. For nearly a decade, our team has built out our equipment and our services. It's all so that we might best be able to serve any client, regardless of the state of their trees or the surrounding area. With experienced technicians and a team of efficient equipment operators, you're sure to be impressed with our ability to tend your trees.
Our Numerous Services
Whether big or small, our team tackles all your tree needs. If trimming is what you're after, we can offer a free estimate and walk you through what the process would look like and a timeline of expected job completion. If you have trees you need removed, we offer full-service removal of any size tree from nearly any area. Our team can climb or crane to access your trees. And we are always attentive to limiting lawn damage by prepping the area in advance. In addition to tree removal and trimming, we grind stumps and backfill them so that your yard is left without stumps or holes. And if you have lots of land to clear we have the equipment to tackle jobs with large quantities of trees all at once.
We don't just serve the Bloomington IL area. We are also available to tackle the trees of communities within a 50-mile radius of Bloomington-Normal. Those locations include Gridley, Eureka, Heyworth, Peoria, Mackinaw, Lexington, and more. We are also happy to offer free quotes for our services. And we will work with your schedule to find the best time that works for you.
About Our Equipment
Over the course of our years in business, we've accrued the right equipment to get the job done. Our crew can climb to trim trees, but at TJ Blakeney Tree Service, we recognized a need for equipment that could effectively and safely remove trees. Today, we have a spider lift that can fit through 3-foot gates yet has an 83-foot reach that provides access to hard-to-reach places. We also have a grapple saw crane, and its 90-foot reach removes large trees without the need to hoist one of our team members in the air. Furthermore, the grapple saw crane safely places cut parts on the ground. Finally, our truck crane has a 100-foot reach, allowing us to access trees that wouldn't be accessible to us or you.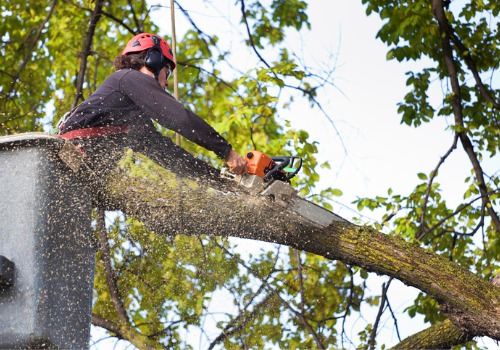 `
Let's Discuss How We Can Help You
The team at TJ Blakeney Tree Service is ready to tackle tree trimming near you. Give us a call today. When you call us at 309-319-0630, you can talk us through your needs. And we can schedule an appointment for us to come and offer an estimate. Don't hesitate to call, especially if you're worried that your overgrown trees could cause a potential risk of damage to your home. Though our team can be available at a moment's notice to help you with storm damage. We'd much rather help you avoid it.