Get Rid of Large and Hard-to-Reach Trees with Crane Tree Removal in Bloomington IL
Are you looking for a safe and efficient way to rid your property of large or hard-to-reach trees? TJ Blakeney Tree Service offers crane tree removal services in the Bloomington-Normal area. Our experienced crew utilizes modern equipment and techniques to safely remove trees from any location, no matter how challenging the job. With our crane-assisted tree removal, we can quickly take care of your problem without causing damage to your property or putting anyone at risk. Contact us today to schedule our tree removal services and ensure your trees are taken down safely!
Why Do You Need Crane-Assisted Tree Removal?
As easy as TJ Blakeney and his crew make tree removal look, some trees are more difficult to remove than others. Trees too large or located too close to structures require more careful removal that's made possible with the help of a crane and additional specialized equipment. You might require crane tree removal yourself due to:
Trees that are too large to remove safely without a crane
Trees in locations where access is difficult or blocked by structures
Trees situated near power lines and other hazardous areas
Heavy branches, which could be dangerous if cut down with traditional methods
Unstable trees that need extra support for safe removal
The removal of multiple trees at once
The removal of trees from hard-to-reach places, such as steep hillsides
Leaning trees that are no longer standing upright and pose a hazard to safety
Our Crane Tree Removal Process
The process for removing trees using a crane isn't much different from our standard tree removal process, the key difference being the crane! TJ Blakeney and his team run you through the same appraisal, removal, and clean-up, with additional steps in-between to ensure the quick, safe, and efficient removal of your most difficult trees.
Assessment – TJ Blakeney's skilled team assess the tree or trees needing removal to determine the best method for safe and efficient cutting.
Prep – Besides the standard prep work we do for tree removal, we take extra steps to prepare the area around trees for crane placement and additional equipment necessary to remove your tree. Any prep we do helps limit lawn damage from our cranes.
Tree Cutting – Finally, our team begins cutting your tree. We start by attaching sections of the tree to our crane via ropes and straps/slings to keep them from falling. Once the section of the tree is removed from the base, we carefully lower the section to the ground and repeat the process.
Clean-Up – Once your tree has been safely felled, we cut it into individual pieces for easier transport. Additional tree services we perform include stump grinding and backfill, ensuring your property is clean, level, and ready for use!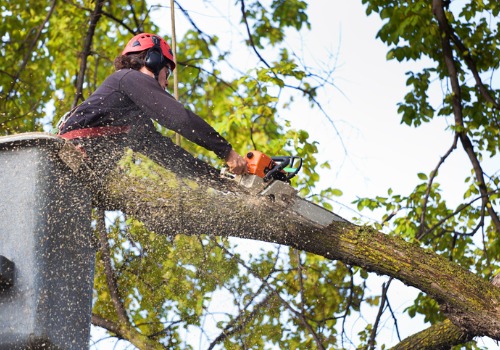 Talk with Our Team
Those large, hard-to-reach trees are no match for TJ Blakeney Tree Service's expert crane tree removal for Bloomington IL and surrounding communities. For questions about how we can assist with your tree removal or to request a quote, contact us today at 309-319-0630. We look forward to helping resolve your tree concerns once and for all!