Quick and Safe Tree Removal for Bloomington Properties
Tree removal is an important service that property owners in Bloomington IL should not take lightly. Removing a tree from your property can be dangerous and requires specialized equipment and expertise to ensure the job is done safely and correctly. That's why TJ Blakeney Tree Service provides professional tree removal services in the Bloomington-Normal area with experienced technicians who use only the highest quality tools for a safe and efficient process. Our team will assess your situation, provide an estimate for services, explain what needs to be done to remove the trees on your property, and discuss any safety issues or concerns you may have before beginning work. With our commitment to quality workmanship and customer satisfaction, you can trust us to get the job done right!
Signs Your Tree Needs Removal
Tree removal can be necessary for many reasons, such as tree decay, neighborly disputes, damage to your property, or stunting plant growth. Furthermore, tree removal is dangerous, requiring specialized equipment and expertise to ensure the job is done safely and correctly. That's why hiring a professional like TJ Blakeney Tree Service can give you peace of mind by knowing you're getting quality workmanship and customer satisfaction. Some reasons for calling TJ Blakeney include:
Tree Decay – Tree removal may be necessary due to tree decay caused by pests, fungus, or rot.
Stunted Plant Growth – Tree removal may be needed if the tree prevents other plants from receiving enough light to grow properly and healthily.
Property Damage – Trees with weak trunks may cause damage to your property when they fall over due to storms or natural causes such as high winds, lightning strikes, heavy snowfall, and ice/sleet.
Storm Damage – In a major storm, trees can become so compromised that they pose a danger to people and buildings nearby. To guarantee the safety of all involved, it's essential to have the damaged tree removed from your property as soon as possible.
Lack of Growth – If a tree doesn't seem to thrive even after proper care and maintenance have been given, it might require removal.
What Our Removal Services Include
As already mentioned, cutting down large or decaying trees can be dangerous if you aren't properly trained in tree removal. Leave the felling of trees on your property up to the experts at TJ Blakeney. When offering our tree removal services, our process entails:
Assessment – We carefully assess the trees on your property and determine any potential problems they might have or be causing. Our team will discuss the best tree removal method with property owners and explain the tree-cutting and safety procedures involved.
Tree Cutting – When the time comes to have your tree removed from your property, we use our advanced equipment to carefully fell your tree away from electric lines, structures, neighboring properties, yard features, etc.
Clean-Up – After a tree has been safely cut down, our technicians cut your tree into individual pieces, allowing fast and easy transportation off your property. We provide yard clean-up afterward, ensuring we leave your property better than we found it.
Additional Services – If you require assistance grinding stumps down, backfilling where trees once were, etc., TJ Blakeney can happily oblige! In the initial tree assessment, we will discuss all additional services and steps.
Our Equipment
From grapple saw cranes to spider lifts, TJ Blakeney Tree Service has it all! Our equipment is up-to-date and well-maintained, ensuring complete, accurate and safe tree removal, regardless of project size. To see our equipment for yourself, check out our machines in action!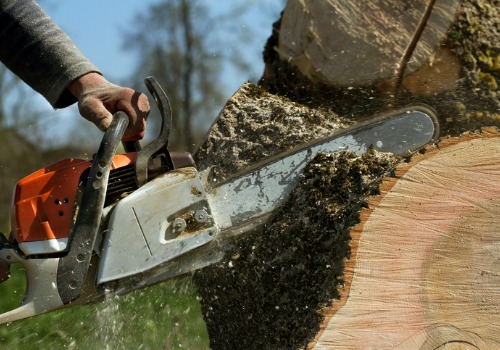 Contact Us Today
At TJ Blakeney Tree Service, we understand how important it is to have a safe and efficient tree removal service that you can trust. Our team of experienced technicians is dedicated to providing quality workmanship and customer satisfaction with every job they do. If your property needs tree services in Central Illinois within 50 miles of Bloomington-Normal, don't hesitate to contact us today at 309-319-0630 for an estimate. We look forward to helping you keep your property looking great!