Top Company Near Me for Tree Removal in Bloomington IL
TJ Blakeney Tree Service contractors bring the most experience and best equipment to tackle any project involving tree removal in Bloomington IL. In fact, we can even handle difficult to reach trees that are obstructed by other structures, safety hazards, or other obstacles. We opened our business with one boom truck in 2014. Ever since, we have grown into a full-service tree removal company known for delivering the best results for tree removal in Bloomington IL. Are you looking to clear large, or hard-to-reach trees or land full of brush? Then, email us to schedule a service appointment. We can also provide a free estimate upon request.
Has severe weather brought large limbs or an entire tree down upon your home, garage, vehicles, or other property? Then, call TJ Blakeney Tree Service to take care of the mess with our service for storm damage tree removal in Bloomington IL. We can provide priority service to quickly remove whole trees or large limbs. In addition, we can also assist you with other services as needed to help you recover from the storm damage. So, tell us what you need. We can grind stumps, cut up large limbs or trees, and backfill areas of your property to support your cleanup efforts.
Crane Tree Removal Service
With our crane-assisted tree removal in Bloomington IL, we can help you get rid of old, heavy trees. So, do not let the overwhelming size of the tree discourage you if you no longer want it on your property. Our special equipment can handle the removal work. In addition, our crane-assisted tree removal also works for the following situations:
Large trees are too heavy to get rid of without a crane.
The tree sits right next to the power lines.
Stability issues with the tree require it to be supported while being removed.
Your property has trees you want to remove on steep or hard-to-reach terrain.
The tree has obstructions around it that limit access to it.
Multiple trees need to be removed at the same time.
Safety risks such as leaning trees make tree removal too difficult any other way.
Other Tree Services Available
TJ Blakeney Tree Services provides several other companion services to go along with our tree removal in Bloomington IL. Other services that we provide include the following:
Stump Grinding – Stumps destroy the look of your property, can encourage pest infestations, and in extreme cases cause damage to your property. In fact, tree root systems continue to grow from stumps. Eventually, those roots can break or clog sewer lines and damage underground utility lines. In addition, fungus or other diseases can spread from stumps and kill off other parts of the lawn. If you have a stump that you want removed, give us a call to provide our stump grinding service.
Tree Trimming  – Do you fear that the next big windstorm will bring down overhanging tree branches on top of your home, garage, or vehicles? Does a tree in your yard have dead or unstable limbs? TJ Blakeney Tree Service can handle the problem by trimming off the parts of your tree that are causing you concern.
Land Clearing – TJ Blakeney can also clear away problem shrubs, brush, and trees from land that you want to build or develop on.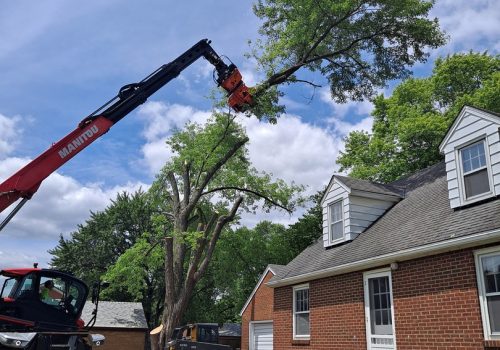 Contact Us for Tree Removal in Bloomington IL
There is a reason TJ Blakeney Tree Service comes highly recommended on customer reviews for tree removal in Bloomington IL. We can handle the jobs that other tree removal contractors cannot because of our special equipment and experience. Give us a call now at 309-319-0630 or send us an email to schedule service or request a free estimate.