After Storm Damage, Count on TJ for Emergency Tree Service in Bloomington
TJ Blakeney Tree Service is the leading provider of storm damage tree clean-up services in Bloomington IL and the surrounding communities. We understand how stressful it can be when a major storm causes trees, limbs and branches to fall, endangering your home and family. That's why we provide prompt emergency tree service to remove any fallen debris from your property as quickly as possible. With our expertise and experience, you can trust us to help you restore safety and peace of mind after a storm.
How Tree Storm Damage Occurs
Trees are surprisingly resilient and are quick to bounce back after storm damage. However, just because your trees will survive doesn't mean the resulting storm debris will clean up itself. Thankfully, that's where TJ Blakeney Tree Service can assist. We've helped countless residents and businesses throughout Bloomington-Normal when resolving downed branches and fallen limbs caused by:
Heavy Rain – Can cause tree roots to weaken and soil around trees to erode, leading to uprooted or broken branches.
Severe Winds – High winds can break weak branches and uproot shallow-rooted trees.
Snow & Ice – Heavy snowfall combined with freezing temperatures can lead to ice accumulation on the leaves and limbs of a tree, which can increase the risk of breakage.
Sleet – Freezing rain accompanied by high winds increases the likelihood that large branches may snap off a tree due to excessive weight buildup.
Our Process for Emergency Tree Service
When fallen limbs have damaged your home or are endangering your safety, you require quick and efficient tree clean-up from experts who care. At TJ Blakeney, we provide excellent recovery and clean-up of broken branches and can provide urgent care when storm-damaged trees are on the verge of toppling over! Our team's process for emergency tree service entails:
Assessment – We assess your property for storm damage and determine the areas that require urgent attention due to potential damage risks and safety hazards.
Debris Removal – We remove any broken limbs and branches that may have fallen on your roof, garage, yard, vehicles, or anywhere else.
Tree Removal – Once broken branches are out of the way, we determine the state of your trees and whether they require removal. If so, we use specialized equipment and cranes to remove trees carefully and reduce the risk of further damage to your property.
Tree Trimming – For trees that don't require removal, we cut and trim dead, broken, and loose limbs that could be impacted by further storm damage.
Clean-Up – Once trees have been removed and your property is no longer in danger, we clean and cut up the remaining debris, providing stump grinding and backfilling services as necessary.
Talk with Insurance Companies – After providing emergency tree removal, we work with you and your insurance company to ensure the services we provide are fully covered!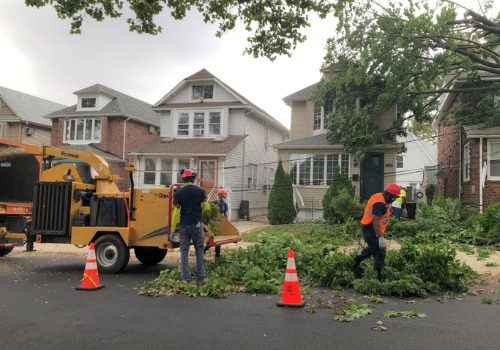 Call TJ Today
After severe storms, you need to act fast to ensure the safety of your property and loved ones! Find emergency tree service from the experts at TJ Blakeney Tree Service. Call 309-319-0630, and we can have a crew at your location ASAP! TJ Blakeney serves businesses and residents throughout Bloomington-Normal and the surrounding communities with expert tree care and removal.