Improve Your Business's Landscape with Commercial Tree Service in Bloomington IL
Whether looking to impress clients or attract new customers, making a positive first impression for your business is crucial. However, before you even have the chance to meet and greet potential guests, they're already unhappy with your company; what's the problem? It might have something to do with your property's large, overgrown, or dead-looking trees. First impressions are everything, and your facility's landscaping is the first thing anyone will see. Thankfully, with commercial tree service in Bloomington IL, you can bring life back to your landscape's trees. Give the professionals at TJ Blakeney Tree Service today!
What Impact Do Trees Have on Your Property?
You'd be surprised how significant a tree's impact is on your property's landscape. From supplying shade for pedestrians to improving overall air quality, tree management is an important service that can greatly benefit your commercial property. Some of what trees offer include:
Improved Land Quality – As long as your trees are healthy, so are the land and soil they're located. Trees help improve overall land quality by stabilizing soil erosion, increasing lawn aeration and water infiltration, and adding abundant nutrients to the soil.
Increased Air Quality – Besides supplying nutrients for the soil, trees produce plenty of clean oxygen for the air. If your facility has environmental concerns, or you're in an area with worse air quality, healthy trees can help fight back!
More Shade – On hot days, shade is essential for keeping your property and guests cool. Without full and healthy trees, you risk exposing your facility to increased heat, resulting in higher energy costs and unhappy, uncomfortable customers.
Less Noise Pollution – Sunlight isn't the only thing trees can block. If your business is located near a busy intersection or highway, noise pollution is something you must contend with. That's why many commercial properties utilize trees as a buffer for noise and overall reduce noise pollution.
Greater Stormwater Management – If your commercial property lacks proper stormwater management, you risk creating flood hazards during heavy rainfall. Conversely, a healthy tree provides natural stormwater management by capturing and storing rainfall in its canopy and helping soil absorb water more efficiently.
How We Help Maintain Your Landscape's Trees
TJ Blakeney's Tree Service doesn't only focus on the special care of your trees. We also help clients when a tree requires removal or relocation, provide cleanup services after storm damage, and offer additional services related to trimming and removal. From our commercial tree services for Bloomington IL, you can expect: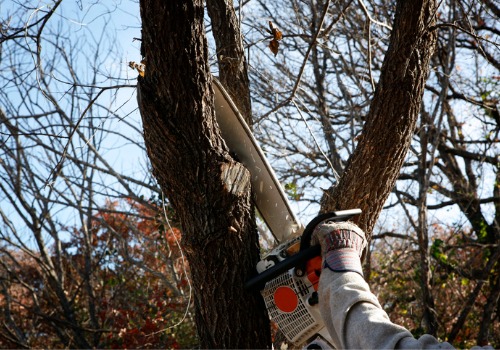 Give TJ Blakeney a Call
Homeowners aren't the only people that need help maintaining their property's trees. Get the commercial tree service in Bloomington IL your business requires from the professionals at TJ Blakeney Tree Service. To learn more about our services or request a quote, call 309-319-0630. We are located at 904 Kingsley St, Normal, IL 61761.