Best Company Near Me for Tree Trimming in Bloomington IL
TJ Blakeney Tree Service provides the top trusted professionals to do the best job when it comes to tree trimming in Bloomington IL. In fact, our company routinely scores among the best on customer reviews for tree removal, stump grinding, and other tree services. We opened our business in 2014 with only one boom truck. Over the last decade, we have grown into a full-service tree removal company. In fact, the special equipment we use allows us to take care of problem trees that other companies cannot handle. Are your trees near power lines or obstructed by other property? We can trim them or remove them for you. Contact us now to request a free quote or schedule service.
Reasons to Hire Pros for Tree Trimming
You may feel tempted to try to save a few bucks and trim trees by yourself. However, there are many reasons why this is not a good idea. Here are some of the biggest reasons why you should hire professionals to do your tree trimming work:
Injury risks – You may not have a lot of experience with trimming limbs. They do not always land where you think. Plus, thousands of people get hurt by falling off a ladder every year.
Health of the tree – Our contractors know how to trim trees by only removing what is necessary, leaving the rest of it intact. If you try to do it yourself, you could damage or kill off other parts of the tree that lead to it dying off.
Property damage liability – It could cost you a lot if you cut off a limb and it falls on your home, garage, vehicle, or other property. Plus, you could face a lawsuit if it damages property that belongs to your neighbor.
Insurance hassles – Your insurance carrier will not pay out any claims for property damage if a professional does not perform your tree trimming in Bloomington IL.
The Benefits of Tree Trimming
TJ Blakeney Tree Service can provide your property with several great benefits with our service for tree trimming in Bloomington IL. Here are some of the biggest benefits we can provide for you:
Improved Safety – Overgrown trees can come down during storms and destroy your property. In addition, you could face an injury risk if a large branch gets blown down on top of you. So, you can improve safety at your property with our tree trimming service.
Prevention of Pest Infestations – Trees can play host to several pests, including squirrels, ants, termites, and raccoons. Unfortunately, they can use overhanging branches to gain access to your house, damaging wood surfaces or burrowing into your roof. Our contractors can trim branches to keep pests from being able to access and damage your home.
Better Curb Appeal – Overgrown trees can do a lot more damage to the look of your property as well. Storms can dump lots of small twigs or branches onto your lawn, making it look as though your property is not maintained. We can help to get rid of dead branches and sculpt your trees to your preferred look.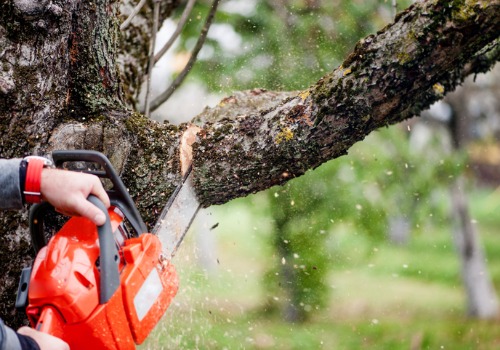 Contact Us for Tree Trimming in Bloomington IL
TJ Blakeney Tree Service is your trusted local source for the best tree services, including tree trimming in Bloomington IL. Plus, we offer a host of other helpful services including tree removal , stump grinding, backfilling, and land clearing. If you have a problem tree, we can take care of it for you. Email us or give us a call at 309-319-0630 now to schedule service or request a free estimate.