Near Me Top Best Tree Services in Bloomington IL
TJ Blakeney Tree Service combines experienced contractors and special equipment to provide the best tree services in Bloomington IL. If you have trees next to power lines, obstructed trees, large, or heavy trees, we are the contractors for you. We use a 100-foot boom and a spider lift with an 80-foot boom to access difficult areas and remove problem trees. So, give us a call whenever you need any of the following tree services in Bloomington IL:
We have grown into a full-service tree removal company since opening in 2014 with only one boom truck. How did we do it? Our team handles all the tough tree removal jobs and helps or customers every way that we can. Do you have a question about our company or our services? Then, give us a call at 309-319-0630 or fill out our online contact form to get the answers you want.
Common Problems that Require Tree Removal
Your property can lose appeal or become dangerous if situations arise that require tree removal or other tree services in Bloomington IL. If that sounds like your property, then let our contractors help. We have all the equipment, training, and tools it takes to tackle your project. Here are some of the most common warning signs that show your property needs tree removal:
Tree Decay – Trees with pest infestations, fungus, or diseases can spread those issues, killing off your lawn, flowers, and plants.
Stunted Vegetation – If you own heavy, older trees, they will not leave enough water, sunlight, and space for other bushes and plants to grow. We can clear those overgrown trees to provide the space, food, and light the other plants need.
Property Damage – Have tree roots clogged or broken your underground sewer or utility lines? Are you concerned that the next storm could drop an overhanging branch down on your home? If so, let TJ Blakeney contractors help you avoid costly property damage by removing those problem trees.
Storm Damage Tree Removal
TJ Blakeney Tree Service takes care of the aftermath of severe weather with our storm damage tree removal and tree services in Bloomington IL. Our team provides priority service if a storm left trees leaning or unstable, potentially causing more property damage. Plus, other services we offer can support your cleanup efforts. We can grind stumps, cut up large limbs or trees, and clear debris off your property if needed.
Stump Grinding and Removal
Tree stumps can cause property damage, pest infestations, and spread fungus or disease to other parts of your lawn and landscaping. Did you know that stumps are often breeding grounds for harmful pests and insects that can damage your property? In addition, tree roots continue growing from stumps, potentially breaking or clogging your underground utility and sewer lines. TJ Blakeney Tree Service offers stump grinding to eliminate the risk of these issues as part of our tree services in Bloomington IL.
Crane-Assisted Tree Removal Services
Do you have trees that you want to remove but other companies will not do it because they are obstructed by power lines or other properties? Are there heavy, overgrown trees on your property that you do not think can be safely removed? TJ Blakeney can get rid of those problem trees and do jobs other tree companies will not take. Here are situations we can help with our crane-assisted tree removal as part of our tree services in Bloomington IL:
Obstructions limit access to the problem tree.
Trees are too heavy or large to remove without a crane.
You want to remove several trees at once.
Trees pose safety risks that make any other kind of removal dangerous.
Unstable trees require additional support for safe removal.
Trees sit on hard-to-reach terrain or steep hillsides.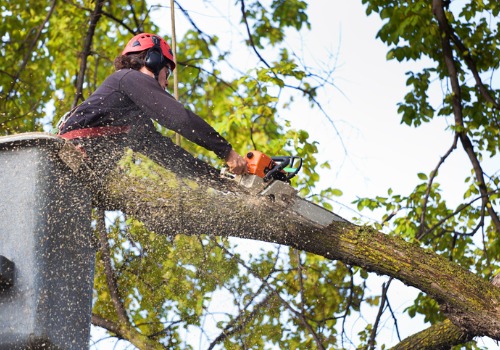 Contact Us for Tree Services in Bloomington IL
TJ Blakeney Tree Service is the top company to call for problem tree removal and other tree services in Bloomington IL. Plus, we will not ask you to take our word for it. You can read our 5-star customer reviews that speak to the quality of our services. Give our team a call now at 309-319-0630 or contact us to request a free quote or schedule service.