Top Tree Service Near You in Bloomington IL
TJ Blakeney Tree Service offers problem tree removal, stump grinding, and land clearing as the top tree service near you in Bloomington IL. Our 100-foot boom and spider lift with an 80-foot boom allows us to access hard-to-reach trees. Plus, we also use a crane for removal of large, heavy, leaning, or unstable trees. In addition, we can clear land with overgrown shrubs, bushes, or other vegetation you want removed and backfill any holes. Since 2014, we have grown from one boom truck into a full-service tree removal company. We have done it by handling all the tough jobs that other companies cannot. That is why our customer reviews speak so highly of our services. Contact us today to request a free estimate or schedule the tree services that you need.
Problem Tree Removal
Do you have large trees that you have worried are too heavy to have removed? Are your trees located right near electrical utility lines? Has a recent storm caused some of your trees to lean or become unstable? No matter the situation, TJ Blakeney Tree Service has the right equipment and tools to remove those problem trees from your property. Plus, we offer other services that assist your clean-up efforts from storm damage. We can clear away debris and backfill any areas as needed. No matter what you need, rely on TJ Blakeney, the top tree service near you in Bloomington IL.
Stump Grinding
If you have ugly tree stumps in your yard, then get rid of them with the top tree service near you in Bloomington IL. TJ Blakeney Tree Service can grind up those stumps to improve your curb appeal. There are many reasons why it is a good idea to get rid of tree stumps in your yard. Here are some of the biggest benefits you receive from our service for stump grinding:
Avoid Property Damage – Tree roots can continue to grow from stumps. Eventually, those tree roots will get large enough that they clog or break your sewer lines. Plus, they can even damage underground utility lines.
Mitigate Pest Infestations – Problem bugs such as termites, ants, roaches can make themselves at home in tree stumps. Once they build a nest, they will continue to colonize your property, potentially damaging or infesting your home.
Protection for Other Landscaping – Harmful fungus or diseases can spread from stumps to other parts of your lawn. In some cases, a stump can wind up killing off several flowers, plants, bushes, and other colorful parts of your landscaping.
Add More Functional Space – Clearing away trees and shrubs that you no longer want on your property gives you more space to build, plant, or develop your property as you wish.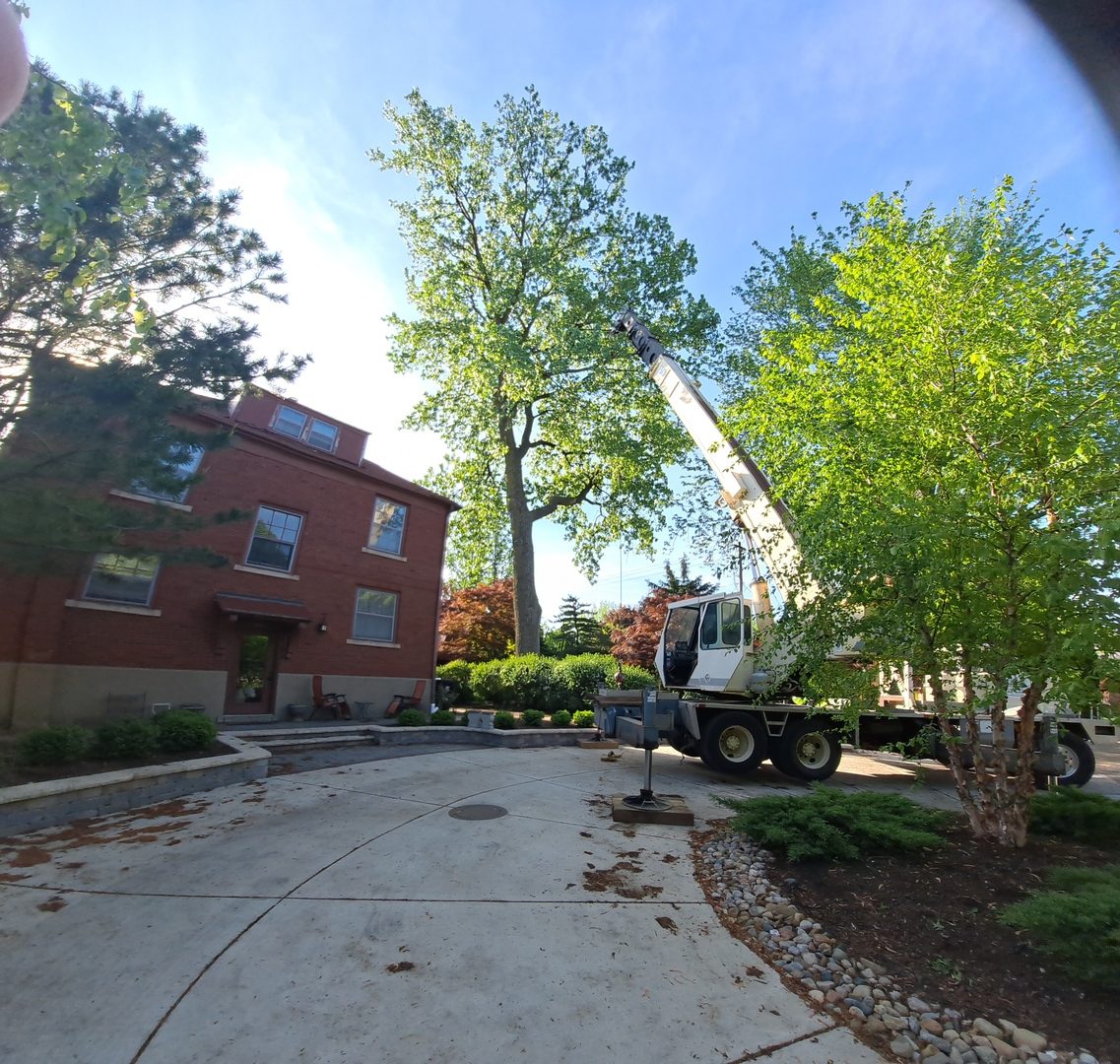 Contact the Top Tree Service Near You
TJ Blakeney Tree Service combines experienced contractors and the best equipment to provide the best tree service near you in Bloomington IL. No job is too large, too small, or too difficult for our team to handle. Do you have trees that you want removed or trimmed? Then, give us a call at 309-319-0630 or email us now to request a free quote or schedule service.