The Best Contractors for Tree Services Peoria IL
Customers rate TJ Blakeney Tree Services contractors among the best available for comprehensive tree services in Peoria IL. Our company has all the necessary equipment to remove any size of tree. In fact, we have a 100-foot boom and a spider lift with an 80-foot boom that reaches difficult to access areas. Plus, we provide emergency service when your property encounters storm damage. Give us a call if you need any of the following tree services:
Do you have large trees, hard to reach trees, or trees located near hazards such as power lines? Our services can handle all the difficult jobs that other tree removal companies will not take. Email us today to tell us about the services you need. We can provide you with a free estimate.
Signs You Need Tree Removal
Whether you are looking for improved safety, curb appeal, or to build on your property, our contractors can help with tree services in Peoria IL. Let our contractors handle the potentially dangerous work of tree removal. After all, our company has all the necessary equipment, tools, and training to safely complete your project. Here are some of the most common signs your property needs tree removal:
Tree Decay – Trees with fungus, diseases, or pest infestations can destroy your lawn and other parts of your landscaping.
Stunted Vegetation – If you have large mature trees, they may not leave enough room, water, and sunlight for other plants and shrubs on your property. We can clear out enough space for other plants to grow.
Property Damage – Are you tired of constantly calling out plumbers to clear tree roots out of your sewers? Do you worry that a storm could bring a limb down on your roof? Then, let TJ Blakeney Tree Service prevent costly property damage by trimming or removing your tree.
Why You Need Stump Grinding Services
Some property owners do not think of the potential problems caused by letting tree stumps remain on their property. First, stumps provide excellent breeding grounds for harmful insects and pests that make it hard to enjoy your outdoor living spaces. Also, stumps can continue growing roots, potentially damaging underground sewer and utility lines. Plus, stumps can spread fungus or disease to other plant life, killing off treasured plants and bushes. We can grind down and remove stumps as part of our tree services in Peoria IL.
Crane-Assisted Tree Removal Services
There are several situations where removing trees is too dangerous without the right equipment. If trees are unstable, too heavy, obstructed, or located near hazards like power lines, it is too dangerous to use basic tools. For that reason, TJ Blakeney Tree Service uses cranes and booms to provide removal of hard-to-reach or large trees. Here are situations where you might need to call us to use our crane for tree services in Peoria IL:
Other property or obstructions limit access to the tree.
Trees are too big to remove without a crane.
You need to remove multiple trees all at once.
Trees are leaning or pose other safety risks that make any other kind of removal dangerous.
Unstable trees require added support to safely be removed.
Trees are located on steep hillsides or other hard-to-reach terrains.
Storm Damage Tree Removal
TJ Blakeney Tree Service can clean up damage left behind by severe weather with our storm damage tree removal services. We can dispatch our contactors quickly to rid your property of large limbs or whole trees. In addition, our process includes other helpful services that help your storm recovery efforts. So, rely on our team to cut up trees or limbs, grind down stumps, and backfill areas where trees displaced soil to get your property looking great again.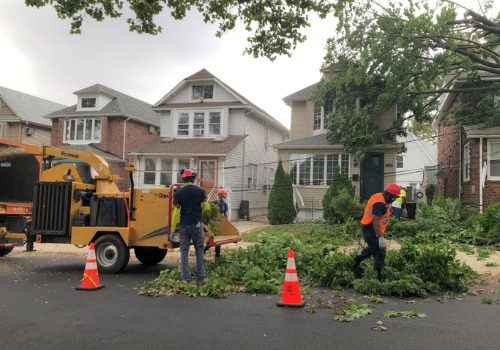 Free Estimates for Tree Services in Peoria IL
TJ Blakeney Tree Service puts trained tree removal experts and the right equipment at your disposal when you need tree services in Peoria IL. Let us know how to help. Fill out our online contact form to schedule service or request a free quote. Are you looking to learn more about us or our services? Then, call 309-319-0630 today to speak with our tree service experts and receive the information you want.