Dead or Overgrown Trees are No Match for Tree Cutting Service in Bloomington IL
The beauty of your yard can't be understated! With a manicured lawn, colorful garden and lush foliage, you have a landscape you can be proud of. However, what good does the effort that went into your yard do if large, overgrown, or dead trees are blocking the view? If such is the case for your property, you require professional tree cutting service in Bloomington IL. Get in touch with the tree experts at TJ Blakeney Tree Service today!
What Does Your Tree Need?
Your trees' health, size and location will help us determine the best course of action for our tree cutting services. Is your tree in good enough condition to trim and foster growth, or is your tree beyond saving and requires removal? No matter the direction we take, TJ Blakeney has the equipment and experienced team to manage tree cutting with speed and precision.
Tree Trimming

Trimming and pruning your trees helps keep them healthy and looking their best. Moreover, tree trimming can prevent issues like dead branches falling on your home or a tree succumbing to disease. Or, if you have a fruit tree, tree trimming can help improve the growth and quality of your fruit! Ultimately, if we determine your tree to be in good condition and find simple trimming will resolve many of the problems it's causing, we will recommend this service.

Tree Removal

Unfortunately, not every tree can be saved. Removal is the best course of action if your tree is diseased, dying, or already dead. TJ Blakeney provides fast and safe tree removal services, ensuring the safety and preservation of your property. By removing dead or dying trees, you are clearing space on your property and protecting the health of your yard and other vegetation. Additionally, removing a tree eliminates the potential for accidental falling or damage to your home.

Crane Tree Removal

Maybe a tree isn't dying, but it's in an inconvenient or precarious position, placing your home's safety at risk. Unfortunately, the removal of such trees can prove challenging for many contractors. Thankfully, TJ Blakeney has the equipment to cut down otherwise difficult-to-remove trees. Our truck crane and spider lift can reach areas other machines can't, giving us the leverage necessary to take hazardous trees down.
Our Additional Services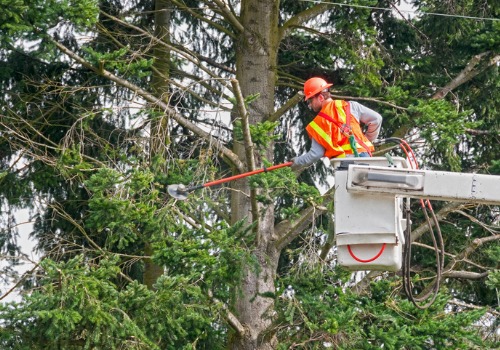 TJ Blakeney Tree Service started simply in 2014, with only a single bucket truck to our name. Now we possess multiple trucks and cranes for managing any size of tree project. In addition to the tree cutting services for Peoria IL we offer, we also provide services for:
Give Us a Call!
If you're unsure of the tree cutting service in Peoria IL you require, allow the professionals at TJ Blakeney Tree Service to lend a hand! You can learn more about our services or request a quote by calling
309-319-0630. We are located at 904 Kingsley St, Normal, IL 61761.