Finish Tree Removal with Stump Grinding in Peoria IL
Whether on the heels of tree removal service or looking to rectify existing stumps on your property, stump removal in Peoria IL is something you'll require. With help from TJ Blakeney Tree Service, you can free your yard from unsightly and sometimes hazardous stumps. We are experts at tree removal and understand how to protect and preserve your property from issues arising from your trees. As such, stump grinding is vital for the care and condition of your yard.
Why You Need to Take Care of Stumps
Once a tree is gone, there's still more work to do! Although it's tempting to leave stumps behind once the whole tree has been removed, stumps can also cause issues that you don't intend. For this reason, TJ Blakeney offers stump grinding in addition to our tree removal services. Thanks to stump grinding, your yard can benefit from:
Fewer Pests – Termites are a danger to every household! So why would you make it easier for termites to thrive on your property? If you leave your stump behind, termites can make a meal of it, eventually moving on to "tastier" ventures like your house.
Fewer Hazards – Yard care shouldn't be too difficult for you or a professional. However, maintaining your lawn is more difficult with a giant stump in the way! Even casually walking in your yard, you risk tripping over a stump. Stump grinding can remove this hazard entirely.
Unwanted Growth – Although there's no tree left to grow, life finds a way! By leaving your stump, there's always potential for sprouts and regrowth. And if you're attempting to keep extra growth down, weeds at bay, and your tree from re-sprouting, stump grinding is the only way to do so.
Unsightly Appearance – If your stump is in a secluded corner of your yard, appearances might not be a concern. However, when stumps are out in the open, in your front yard, in your garden, etc., they aren't always the most "visually appealing." Stump grinding should be a priority if you're worried about your property's curb appeal.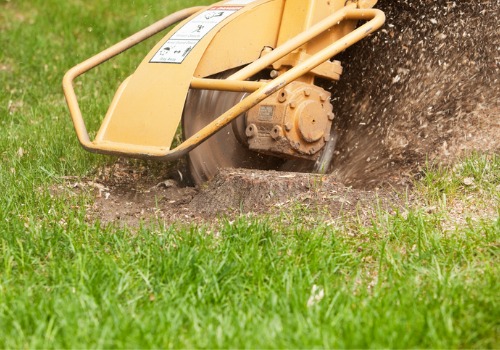 What Are Our Other Services?
Of course, stump grinding in Peoria IL is only one aspect of tree removal. In fact, stump grinding is the very last step! At TJ Blakeney Tree Service, we offer more than stump grinding, with equipment and experience that ensures we can handle any size of tree job. Depending on you and your property's needs, we can offer services like:
Talk with Our Team
Stump grinding in Peoria IL is an essential part of the tree removal process. To guarantee complete stump elimination that promises care for your yard and property, count on the tree experts at TJ Blakeney Tree Service. To learn more about our services or request a quote, contact us today at 309-319-0630. We are located at 904 Kingsley St, Normal, IL 61761.